Welcome
Cornerstone Environmental Services provides sound stormwater compliance advice and construction services to Central Florida homebuilders, developers, and commercial construction companies.
Repairing Erosion Along Slopes and a Bump Swale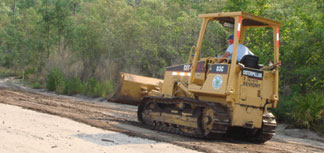 Cornerstone Environmental Services repairs erosion and brings slopes and swales back to original grade along the wetland conservation areas for a client. Erosion along slopes and swales is all too common on sites that have been developed but homebuilding has not yet begun. Because much disturbed acreage and bare soil exists adjacent to the slopes and swales along wetlands, the swales often fill with sediment over time and become less effective. Cornerstone has the experience and skill to bring these areas back to original grade and stabilize them and surrounding areas to prevent the erosion from re-occurring.